Bio
Excerpted from an article by Keith Spera of New Orleans' Times-Picayune newspaper

"Outside the Pensacola Civic Center, Bud Tower stared in amazement at two Lynyrd Skynyrd 18-wheel equipment trucks emblazoned with "God and Guns." Tower co-wrote the song "God & Guns" which Skynyrd chose as the title track of their 2009 album and their 2009 and 2010 U.S. and international tours. Once again Tower was reminded that, in music, it all begins with a song!"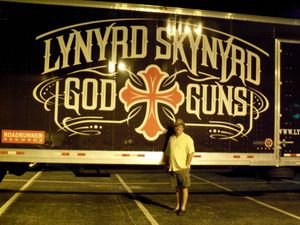 Excerpted from an article by Kelly Greene of The Wall Street Journal

"In 2003, Tower moved to Nashville, in calamitous fashion: The moving truck broke down just outside New Orleans (on  Mardi Gras day, BTW), and Bud spent the first night in his Nashville apartment sleeping on the floor, with no electricity. He then broke the shower knob first thing the next morning and watched as water spewed all over his bathroom floor, which was directly over his landlady's apartment!"

"He stuck it out for six years and his persistence was gradually rewarded. A song he wrote in 2001, titled "We Are America," found its way onto a country music station in New York City and helped Mr. Tower raise $1,000 for the city's firefighters. More recently, two songs he co-wrote have hit the big time: "Red, White and Pink-Slip Blues," sung by Hank Williams Jr., was released as a single to country radio, and "God and Guns" was recorded by Lynyrd Skynyrd." Some 50 other of Bud's songs have been cut by Indie artists. Many of those were released to radio as singles and several wound up in movies, TV, and direct to video projects.
View Original article and video embedded therein!
(There may be a short ad before video plays. Sorry, I can't control that! Best, Bud)